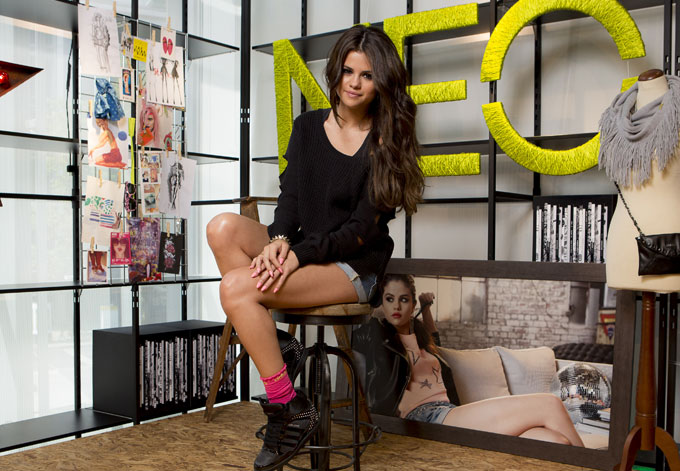 Stilikone Selena Gomez stellte gestern im adidas NEO Flagship-Store in der Tauentzienstraße ihre stylische "Rock Chic" Kollektion vor. Nun darf sich Selena, neben Schauspielerin und Musikstar, auch NEO Gast-Designerin nennen.
Die talentierte Künstlerin unterstütze höchstpersönlich das adidas NEO Team bei der Entwicklung ihrer 53-teiligen Kollektion für junge Mädchen, die coole Rock-Outfits und lässige Styles lieben. Zu ihren Lieblingsteilen zählen die schwarzen Super-Wedge-Schuhe mit Nieten und die rockige, aber feminine Denim-Weste mit Verzierungen am Kragen. Das Design spiegelt Selenas Liebe für die Musik und die Welt des Rock'n'Rolls wider.
Selena Gomez sagt: "Ich liebe es, mit Outfits herumzuexperimentieren und liebe Mode, die Spaß macht. Meine Kollektion zeigt selbstbewusste und rebellische Mode. Sie soll Mädchen ermutigen, das zu tragen, was sie wollen."
Fans aus aller Welt hatten die Chance, über Hashtag #NEOaskSelena Teil einer interaktiven Twitterrunde zu sein. Selena Gomez beantwortete alle Fragen auf dem adidas NEO Twitter Account @adidasNEOLabel.
Q. How long has Selena been working with adidas NEO Label?
A. Selena has been working with adidas NEO Label since 2012 as a global style icon to highlight
the brand's innovative, fun & teen focused attitude.
Q. Is this Selena's first collection with adidas NEO Label?
A. This is the first NEO collection guest designed by Selena.
Q. When does the collection launch?
A.  The autumn collection from the line launches on 30th July 2013, with the winter collection released in October 2013. Please note, these timings may be different depending on local market.
Q. How many pieces of clothing are in Selena's  new collection?
A. There are 53 pieces in the 'Rock Chic' themed collection which include clothing, shoes and accessories.
Q. What is the inspiration behind the collection?
A. The collection for girls is a twist on classic rock style with an effortless edge. Designs have been created drawing inspiration from Selena's love for music, and styles from the catwalk.
Q. What is #myNEOshoot
A. It's an online contest which continues NEO's commitment to teen culture by asking fans to select their favourite images from Selena's interactive look book to create her global advertising campaign. The shots can be snapped and cropped to give them a unique look, before they are submitted. The winning images will be made famous in a global advertising campaign, with the best of the submissions featured on the cover photo of Selena's NEO Facebook page.
Q. When does the #myNEOshoot competition launch?
A. The competition will launch on 9th July 2013.
Q. When does the #myNEOshoot competition close?
A. The competition will close on 2nd August 2013. The winning submission will also appear on Selena's Facebook page also on the same day.
Q. What is the Twitter Q&A session?
A. 48 hours prior to the launch event there will be a request put out on the adidas Twitter account @adidasNEOLabel asking fans from around the globe to submit questions to ask Selena at the interactive Twitter Q&A session. Selena will then answer a selection of the questions using the hashtag #NEOaskSelena.
Q. How can we find out more about what's happening at the event if we can't attend?
A. There will be lots of updates and pictures on the NEO social channels throughout the event day so the action can be followed.